CHASIN BACON (TM) Sponsors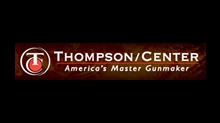 Thompson Center Arms
Thompson Center Arms
ABOUT THOMPSON CENTER ARMS
In 1965, K. W. Thompson Tool was looking for a product to build and a gun designer, Warren Center, was looking for someone to build his Contender® pistol. It was a perfect match. The facilities at K. W. Thompson Tool were expanded and Thompson/Center Arms was formed. Two years later, the first Contender Pistol was shipped, starting a trend in high performance hunting handguns, which continues to grow every year. To date, over 400,000 Contender pistols have been shipped and the pistol's reputation for versatility, accuracy and dependability goes unchallenged among serious handgun shooters.
Since the production of the initial Contender Pistol, the company has expanded its facilities and product line numerous times. In 1970, Thompson/Center entered the Black Powder market with the introduction of their first muzzleloading rifle, the Hawken. Muzzleloading interest at the time was minimal and the market needed a quality rifle, which could not only be shot but could be purchased at a reasonable price. Original or antique rifles were selling for high prices and most collectors opted not to fire these pieces. The T/C Hawken™ was the first of many muzzleloader types for Thompson/Center.
Currently, Thompson/Center produces an extensive line of single shot pistols and rifles, plus a full line of muzzleloading rifles and "black powder" accessories.
The old-style Contender Pistol has been redesigned. Now called the G2 Contender (2nd generation), it continues to be the most versatile hunting pistol on the market, with the capabilities of accepting both rimfire and centerfire barrels. In addition to the G2 Contender Pistol, T/C also produces a G2 Contender Rifle, again boasting readily interchangeable barrels. Sporting a 23" barrel and weighing only 5.4 pounds, there isn't a handier, more versatile rifle anywhere.
The overall success of the Contender Pistol, and the reputation it established, led the company to bring out a slightly larger version, with a longer and thicker frame. Called the Encore®, this pistol/rifle accepts the larger, high-powered cartridges popular with hunters who want more power at extended ranges.
Over the last 15 years, the sport of "black powder" hunting has increased dramatically — as have hunters' demands. Generally not interested in the nostalgia, which accompanies the guns of the 1800's, these hunters want modern designs, better accuracy at extended ranges, and easier cleaning. Although Thompson/Center continues to offer our first muzzleloader, the Hawken, most of the muzzleloaders T/C offers today are modern in-line styles. These modern muzzleloaders are capable of accepting magnum charges of 150 grains of FFG Black Powder, or Pyrodex® equivalent (i.e.: three each of 50 grain [50 caliber] Pyrodex pellets).
Thompson/Center now offers four different styles of modern in-line muzzleloaders. The Omega™ has a sealed pivoting breech design. The Encore 209x50 Magnum is the most versatile and popular muzzleloader available on the market today. 'The Encore Endeavor which comes with T/C's Speed Breech XT and the Triumph, T/C's new magnum muzzleloader.
An extensive array of black powder accessories are available for purchase to compliment T/C's muzzleloading product line. Our entire product line is built with one thing in mind — quality. Thompson/Center guns are built by New Englanders, who take pride in building a sturdy product and selling it at a fair price. In addition, Thompson/Center stands behind each gun with their famous Lifetime Warranty.
Our precision investment castings come from our own casting facility here in Rochester, Thompson Investment Castings. T/C's dedication to giving shooters and hunters their best product value begins with the T/C employees. More often than not, T/C employees use T/C products when they head into the fields and woods... products they (and you) can rely on, year after year.
Thompson/Center is not old by historical standards however, in less than 40 years, we have contributed heavily to the growth of shooting and hunting sports in America. We've elevated handgun hunting and hunting with a muzzleloader to new heights. Thompson/Center continues to lead the industry through the development of innovative, quality products for sport shooters and hunters worldwide.
In 2007
Thompson/Center
became part of Smith & Wesson Holdings, Co. and is recognized as Smith & Wesson Hunting.
Call us today to ask questions (kick the tires) or book a hunt:
(877)9-HUNTING
(877) 948-6846
(954) 410-5956 Cory's Cell
Booking? Questions? Comments? >>> Contact Us!
CHASIN BACON (TM) wants to hear from you. YES CHASIN BACON (TM) IS TRADEMARKED so do not jack our name or logos. You do not have our permission to use any picures or content unless you have our signed consent form with our Trademark and Copywrite agreement. Should you use our content, albeit picures or content without consent please enjoy the cease and dessist letter immediatly followed by our damages and court filing. PS We also look good in court not just in the field. If you have any questions or would like to book a hunt for you, friend or loved one, please contact us. Florida meat boars, Trophy Hogs, Arcadia Florida, Naples Florida, Night Hunting, Spear Hunting, Archery Hunting, Rifle Hunting, Florida Hunting Adventures, Bear, Alligator, Exotics, Florida, Texas, New Mexico, Africa.... we can put you on the animal and trophy of your dreams. Naples Florida Meat Hogs, Trophy Boars, Nightime Hunting, Ninja Spear Hunting, Arcadia Florida Exotic Hunting, Lodging, Florida Guraranteed Opportunity on Game. NOW STOP READING ALL OF THIS ABOUT FLORIDA WILD BOAR HUNTING AND EXOTIC DEER HUNTING AND CALL US TO BOOK YOUR HUNT AND ADVENTURE TODAY. #CHASINBACON
NO GUIDE FEES - NO CLEANING FEES - NO HUNTING LICENSE NEEDED FOR OUR PRIVATE LAND HUNTS!