Hunt with a Star
Manny Puig:

Chasin Bacon is offering a hunt with Manny Puig, star of Savage Wild for a limited time. You can book your guaranteed hog hunt and hunt with the original swamp man the ultimate predator Manny Puig. Manny is world famous for his TV appearances on Jackass, MTV Wild Boys, his documentary Ultimate Predator and his #1 rated hunting show on Outdoor Channel Salvage Wild.
We are offering a two day hunt with lodging included in the South West Florida area. A professional TV crew will follow you and Manny as you stalk and hunt hog on a private ranch loaded with wild boar. When this hunt is over you will have harvested one trophy boar and one meat hog for the BBQ or freezer filler as we call it. The Chasin Bacon staff will skin and quarter all game harvested. All you need is your weapon of choice, a big cooler and plenty of ice.
Included in price of the hunt will be a professionally filmed and edited HD video of you and the wild man himself during your hunt with the star Manny Puig.
Chasin Bacon is only going to host four of these hunts this year with Manny as the demand are high and due to Manny's hectic filming schedule. Choose your weapon: Bow , Rifle, handgun or spear. If you are interested contact us for more info pricing and details call Cory at (954)410-5956 or Orlando (239)580-8494 to book the hunt of a lifetime. The cost for this chance of a lifetime and entire packed with memories s $2,500.00 Should you choose, you may bring a guest and split the cost. For an added $500.00 your HD Video and editing will be something for you to brag to your friends, family and perfect strangers.
Ask us about purchasing a custom spear handmade by Manny. His spears can be seen on Savage Wild, and we can also sell you a custom Manny Puig knife for $1,200,00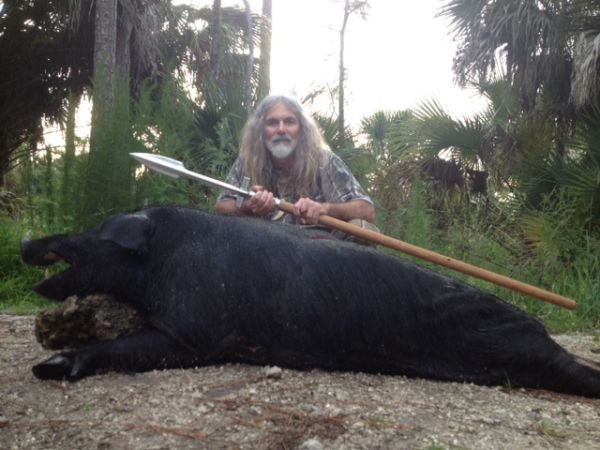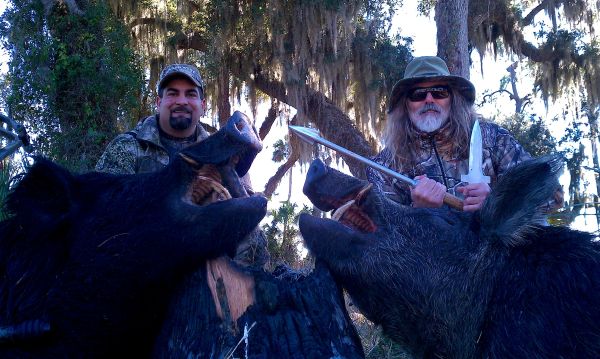 Ask us about purchasing a custom hand made spear from Manny, or a handmade knife from Manny. Both are not just display pieces but as you can see from the above pictures can be used in the field for animal domination.
Please ask about hunting with the Paul Bedard and Jimmy Riffle from the Gator Boys and the Boys from Billy's Swamp Safari.
Call us today to ask questions (kick the tires) or book a hunt:
(877)9-HUNTING
(877) 948-6846
(954) 410-5956 Cory's Cell
Booking? Questions? Comments? >>> Contact Us!
CHASIN BACON (TM) wants to hear from you. YES CHASIN BACON (TM) IS TRADEMARKED so do not jack our name or logos. You do not have our permission to use any picures or content unless you have our signed consent form with our Trademark and Copywrite agreement. Should you use our content, albeit picures or content without consent please enjoy the cease and dessist letter immediatly followed by our damages and court filing. PS We also look good in court not just in the field. If you have any questions or would like to book a hunt for you, friend or loved one, please contact us. Florida meat boars, Trophy Hogs, Arcadia Florida, Naples Florida, Night Hunting, Spear Hunting, Archery Hunting, Rifle Hunting, Florida Hunting Adventures, Bear, Alligator, Exotics, Florida, Texas, New Mexico, Africa.... we can put you on the animal and trophy of your dreams. Naples Florida Meat Hogs, Trophy Boars, Nightime Hunting, Ninja Spear Hunting, Arcadia Florida Exotic Hunting, Lodging, Florida Guraranteed Opportunity on Game. NOW STOP READING ALL OF THIS ABOUT FLORIDA WILD BOAR HUNTING AND EXOTIC DEER HUNTING AND CALL US TO BOOK YOUR HUNT AND ADVENTURE TODAY. #CHASINBACON
NO GUIDE FEES - NO CLEANING FEES - NO HUNTING LICENSE NEEDED FOR OUR PRIVATE LAND HUNTS!