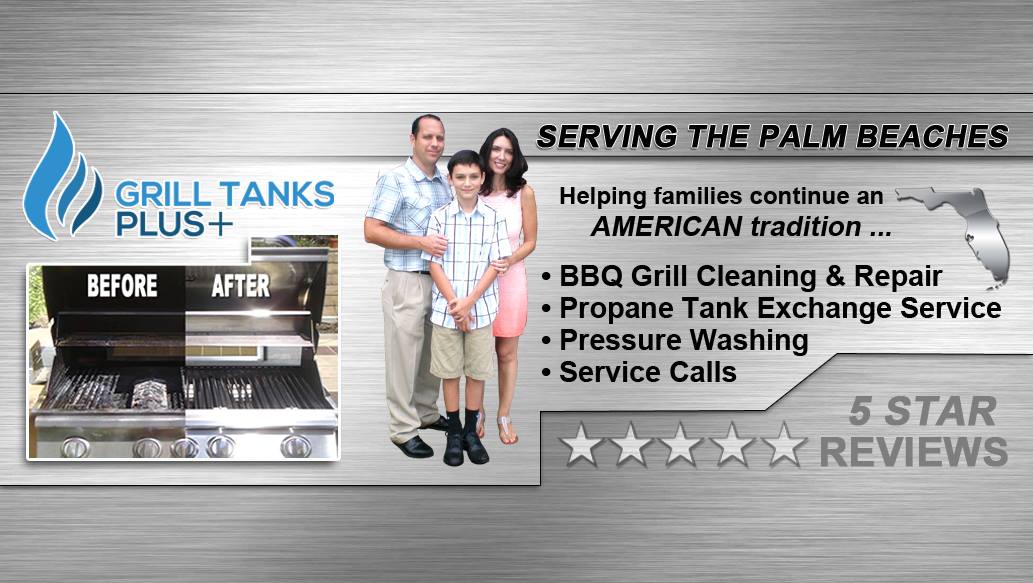 Grill Tanks Plus is a first class operation. I have used them for my Weber and my XL Big green egg. Their employees are outstanding and left the house as clean as it was when they got there. They had no "upselling" pressure like other companies and did an outstaning job. One of the most important thing to me was they had an open line of communication, they called to confirm the appointment and they were prompt and professional.
CALL US TODAY:(561) 244-2534
Do yourself a favor and give them a try! CLICK HERE FOR GRILL TANKS PLUS and let them know Cory from CHASIN BACON (TM) sent you. With over 100 five (5) star reviews you will not be disapointed.
Some of the services they offer include:
Grill cleaning and servicing
Propane tank exchange
Grill Tanks Plus is a company in Delray beach but had no issue coming to Plantation to service my grills. They service all of Palm Beach & Broward Counties.
Click one of the links above to check us out or call:

CALL US TODAY:(561) 244-2534
Booking? Questions? Comments? >>> Contact Us!
CHASIN BACON (TM) wants to hear from you. YES CHASIN BACON (TM) IS TRADEMARKED so do not jack our name or logos. You do not have our permission to use any picures or content unless you have our signed consent form with our Trademark and Copywrite agreement. Should you use our content, albeit picures or content without consent please enjoy the cease and dessist letter immediatly followed by our damages and court filing. PS We also look good in court not just in the field. If you have any questions or would like to book a hunt for you, friend or loved one, please contact us. Florida meat boars, Trophy Hogs, Arcadia Florida, Naples Florida, Night Hunting, Spear Hunting, Archery Hunting, Rifle Hunting, Florida Hunting Adventures, Bear, Alligator, Exotics, Florida, Texas, New Mexico, Africa.... we can put you on the animal and trophy of your dreams. Naples Florida Meat Hogs, Trophy Boars, Nightime Hunting, Ninja Spear Hunting, Arcadia Florida Exotic Hunting, Lodging, Florida Guraranteed Opportunity on Game. NOW STOP READING ALL OF THIS ABOUT FLORIDA WILD BOAR HUNTING AND EXOTIC DEER HUNTING AND CALL US TO BOOK YOUR HUNT AND ADVENTURE TODAY. #CHASINBACON
NO GUIDE FEES - NO CLEANING FEES - NO HUNTING LICENSE NEEDED FOR OUR PRIVATE LAND HUNTS!