CHASIN BACON (TM) Sponsors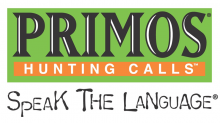 PRIMOS
Best Hunting Products on the market
PRIMOS HISTORY
At the age of five, one could already see the passion in Will Primos' eyes. Will couldn't wait until he was old enough to tag along with the older guys on one of the family's many duck hunts. In 1963, an 11 year old Will crafted his first call, a duck call. From that first effort evolved what is now heralded as the most accurate, most reliable call on the market, the legendary Primos Brand call. "I was duck hunting with my Uncle Gus in green timber. Uncle Gus was an expert duck caller, and I was absolutely enthralled hearing him make that call sing. That was my first experience witnessing the magic; and when I got home, I made my own call by copying my uncle's."
Ask any hunter who makes the best game calls and chances are you'll hear the name Primos. Many call companies specialize in making calls for one type of game species. Primos makes calls for every category of game species hunted in North America. Everything Primos does, they do exceptionally well. From a gleam in the eye of a young boy who was fascinated with calling in ducks, Primos Hunting Calls has grown into a major force in the hunting industry. Primos Hunting Calls manufactures calls for elk, deer, turkey, predator and waterfowl as well as clothing and accessories. They also produce the ever-popular video series The TRUTH and the television show Primos' TRUTH About Hunting. Each year new products are added to the line, and each year Primos maintains the hallmark that defines them: quality.
Will Primos still remembers seeing the Alfred Hitchcock movie "The Birds" as a child. It isn't the movie that stuck with him for over 40 years; it's what he saw in the short documentary before the feature presentation.
"Before the feature, there was a short documentary of Howard Hill shooting a bow," he says. "It was about how he starred in Robin Hood movies. I was already interested in hunting birds and squirrels, but that got me more interested in archery."
Will still has his first bow, which he went home and worked on after he saw the film. "In the movie, Howard Hill had a shelf that his arrow rested on, Primos says. "My bow didn't have a shelf. You just shot off your hand." So Will went home, got a piece of plywood from his dad's shop and built a shelf for his own bow.
"I glued it on, but I'm right handed, and I glued it to the right side," he says. "I should have glued it to the left side, but I didn't know that. So I was shooting right handed with a rest on the right side of the bow. But I learned to shoot it – at 10 yards, birds and squirrels had better beware!"
Will continued to hunt through high school and into college, and says he was an "obsessed and possessed" hunter. "Anything that flew, crawled, walked or swam, I was after it," he says.
When he graduated from college in 1974, Primos went to work in the family restaurant business in Jackson, Mississippi, running the catering and banquet division for one of five restaurants.
Then in fall turkey hunting camp, Will met a woman who changed his life. A lady in her late 50's named Eleanor Roessler owned the camp, and brought with her some of the mouth calls she was making and selling.
"She was pounding out lead, and using prophylactic membranes," Primos says. "The calls didn't fit my mouth well, and thought I could do better than that." He went home and started making his own calls out of tin beer cans. Everyone who saw them liked them so much that he started selling them in 1976.
"There was a sporting goods store in town called Hunt and Whittaker," he says. "I was selling my double and triple frame reed calls for $20 apiece."
Before long, Primos started getting requests from all over to buy his calls.
"Some guy from Pennsylvania came hunting in Mississippi and bought one at the store and took it back with him," he says. "He had a store up there and he wanted to carry them, so then I had a dealer in Pennsylvania." By 1979, Primos had to hire people to make calls in order to keep up with the demand, and before long he had expanded the line to include other products. "I had a couple of friction calls, more mouth calls, and a call case," he says. "A lot of little things."
In 1983, Primos took his first step into marketing his product with an instructional audiotape.
"I hired a guy who followed me around in the woods," he says. "The top-of-the-line equipment for field use at that time was a reel-to-reel recorder that was very big and cumbersome. We would set up on a turkey, and he'd set out the microphones and put the reel-to-reels on, and he'd record these hunts. I put them on a tape with instructions about how to use different kinds of calls."
In 1984 he went to his first SHOT Show. The next year he hired his cousin, Jimmy Primos, to manage the company. The makings of a real company started coming together.
"The SHOT Show was in Atlanta that year," he says. "I remember that they had an ice storm. The snow started falling outside I undid my booth four hours early, loaded it into my Bronco, and headed home. I was not staying in Atlanta anymore – I'd had all the concrete and steel that I could deal with."
In 1986 Primos decided that people would believe in his product and buy it if they could see it work. "I had Boyd Burrow come out in the turkey woods with me to create a video showing my calls at work," says Primos. "The first video I put out was called Spring Turkey Hunting with Primos."
The success of the video led Will to create the TRUTH series of videos, which for 14 years have covered every type of hunting. Primos' success with the videos in turn led them to the Outdoor Channel where they produce the popular show for the Tuesday Night Pursuits line-up called, Primos' TRUTH About Hunting.
Despite all his successes with the company, Primos didn't make the mistake many young entrepreneurs make – he kept his day job. He continued working at the restaurant until 1989, using his salary to support his family so he could put everything he made from making game calls back into the company.
"I worked 24 hours a day, seven days a week," he says. "We kept growing and growing. I would travel any time I had time off, go promote, go to shows, go give seminars." The strategy worked. The company reached a million dollars in sales, and still Primos kept working at the restaurant and putting money back into the company and building inventory.
I just worked extra long and extra hard to be sure everything worked right, and Jimmy did a good job with the company," he says. When he started adding rep groups, Primos sat down with them and asked for their input on how to sell the company's products in their areas. From that input he was able to create a business plan that he took to the bank, and for the first time, he borrowed enough money to move from being a small company to becoming a large one.
"Then I established a policy that the reps were paid before anyone else was paid, because they're our sales force," Primos says.
As the company has added calls, they've also improved their materials and technology. But one thing that hasn't changed is the quality of the workmanship.
To this day, Primos still checks the quality of the calls coming out of the factory. "We have a team of employees who come sit in my office and lay out a sampling of calls, and we check them to see that they've maintained the quality I started with 31 years ago," he says. "There are certain things that I will not allow to be removed from my daily responsibility, because it keeps me in touch with the grassroots of the company," says Primos.
Primos' commitment to quality and responsibility continues to pay dividends, as the company's volume of sales continues to grow at a rate of more than 25 percent each year. "We understand calls. We understand what makes a good sound and how to create that product, because we are our own customers. Meaning we love to hunt and want to be successful at it. Our calls add to our success rate in the field," he says. "We also have a lot of mold expertise, for the parts that we use to build duck, goose, elk and other calls. I engineer them, I pick people's brains and I ask my staff to see what they think. Then we have a national sales manager and two regional sales managers who along with the manufactures reps handle all sales."
Today Primos Hunting Calls has over 120 employees, and manufactures around 620 products. These products include calls, videos, clothing and hunting accessories for turkey, elk, waterfowl, deer and predator. The company holds 26 patents and numerous trademarks, which the company's patent attorneys – all committed bow hunters – protect aggressively.
"We're the only company that crosses categories in a strong way," Primos says. "Some companies are really good at waterfowl but don't do anything in turkey, deer or elk. But we're strong across the board."
In May of 2002 Primos Hunting Calls moved in to their new 54,000 square foot facility located in Flora, Mississippi. "The new building has allowed us to really streamline the flow of things around here," says Will. "After being here for two years, we're already thinking about expanding." The rapid growth of Primos has indeed been strong as the building was expanded to over 100,000 square feet in the summer of 2005.
At the end of the day, Primos says, the company's success comes down to quality, and a belief in what they are doing. "Everyone here is a hunter. If we don't use a product and don't believe in it, we can't market it," he says. "If it's not our heart and soul, we aren't going to do it. We're going to keep on caring about the products that we manufacture. The bottom line is, we are our own customer. That's the foundation of the whole company."
Booking? Questions? Comments? >>> Contact Us!
CHASIN BACON (TM) wants to hear from you. YES CHASIN BACON (TM) IS TRADEMARKED so do not jack our name or logos. You do not have our permission to use any picures or content unless you have our signed consent form with our Trademark and Copywrite agreement. Should you use our content, albeit picures or content without consent please enjoy the cease and dessist letter immediatly followed by our damages and court filing. PS We also look good in court not just in the field. If you have any questions or would like to book a hunt for you, friend or loved one, please contact us. Florida meat boars, Trophy Hogs, Arcadia Florida, Naples Florida, Night Hunting, Spear Hunting, Archery Hunting, Rifle Hunting, Florida Hunting Adventures, Bear, Alligator, Exotics, Florida, Texas, New Mexico, Africa.... we can put you on the animal and trophy of your dreams. Naples Florida Meat Hogs, Trophy Boars, Nightime Hunting, Ninja Spear Hunting, Arcadia Florida Exotic Hunting, Lodging, Florida Guraranteed Opportunity on Game. NOW STOP READING ALL OF THIS ABOUT FLORIDA WILD BOAR HUNTING AND EXOTIC DEER HUNTING AND CALL US TO BOOK YOUR HUNT AND ADVENTURE TODAY. #CHASINBACON
NO GUIDE FEES - NO CLEANING FEES - NO HUNTING LICENSE NEEDED FOR OUR PRIVATE LAND HUNTS!