CHASIN BACON (TM) Sponsors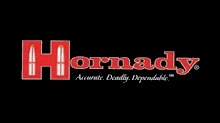 Hornady
Hornady
Chasin Bacon's ammuntion:
"Ten bullets through one hole" is the philosophy that brought Hornady® Manufacturing from a two-man operation in 1949, to a world-leading innovator of bullet, ammunition, reloading tool and accessory design and manufacture today.
Change is our constant and daily challenge. We outperform our competitors by ensuring the products we make are the ones our customers need right now, and accurately predict what they'll want in the future. We recognize trends, and respect when to leave well enough alone. Our work force includes an ample number of hunters and competitive shooters, as well as veterans and former law enforcement officers. At Hornady® Manufacturing, ammunition is more than our livelihood. It's a major part of our daily life.
We invite you to check us out, see where we've been and where we're headed. We ask that you hold us accountable, too. Send us your input, photos and shooting updates. We want know what you think about our products.
Call us today to ask questions (kick the tires) or book a hunt:
(877)9-HUNTING
(877) 948-6846
(954) 410-5956 Cory's Cell
Booking? Questions? Comments? >>> Contact Us!
CHASIN BACON (TM) wants to hear from you. YES CHASIN BACON (TM) IS TRADEMARKED so do not jack our name or logos. You do not have our permission to use any picures or content unless you have our signed consent form with our Trademark and Copywrite agreement. Should you use our content, albeit picures or content without consent please enjoy the cease and dessist letter immediatly followed by our damages and court filing. PS We also look good in court not just in the field. If you have any questions or would like to book a hunt for you, friend or loved one, please contact us. Florida meat boars, Trophy Hogs, Arcadia Florida, Naples Florida, Night Hunting, Spear Hunting, Archery Hunting, Rifle Hunting, Florida Hunting Adventures, Bear, Alligator, Exotics, Florida, Texas, New Mexico, Africa.... we can put you on the animal and trophy of your dreams. Naples Florida Meat Hogs, Trophy Boars, Nightime Hunting, Ninja Spear Hunting, Arcadia Florida Exotic Hunting, Lodging, Florida Guraranteed Opportunity on Game. NOW STOP READING ALL OF THIS ABOUT FLORIDA WILD BOAR HUNTING AND EXOTIC DEER HUNTING AND CALL US TO BOOK YOUR HUNT AND ADVENTURE TODAY. #CHASINBACON
NO GUIDE FEES - NO CLEANING FEES - NO HUNTING LICENSE NEEDED FOR OUR PRIVATE LAND HUNTS!