Cory T. Knight - Professional Hunter - Ninja Hunter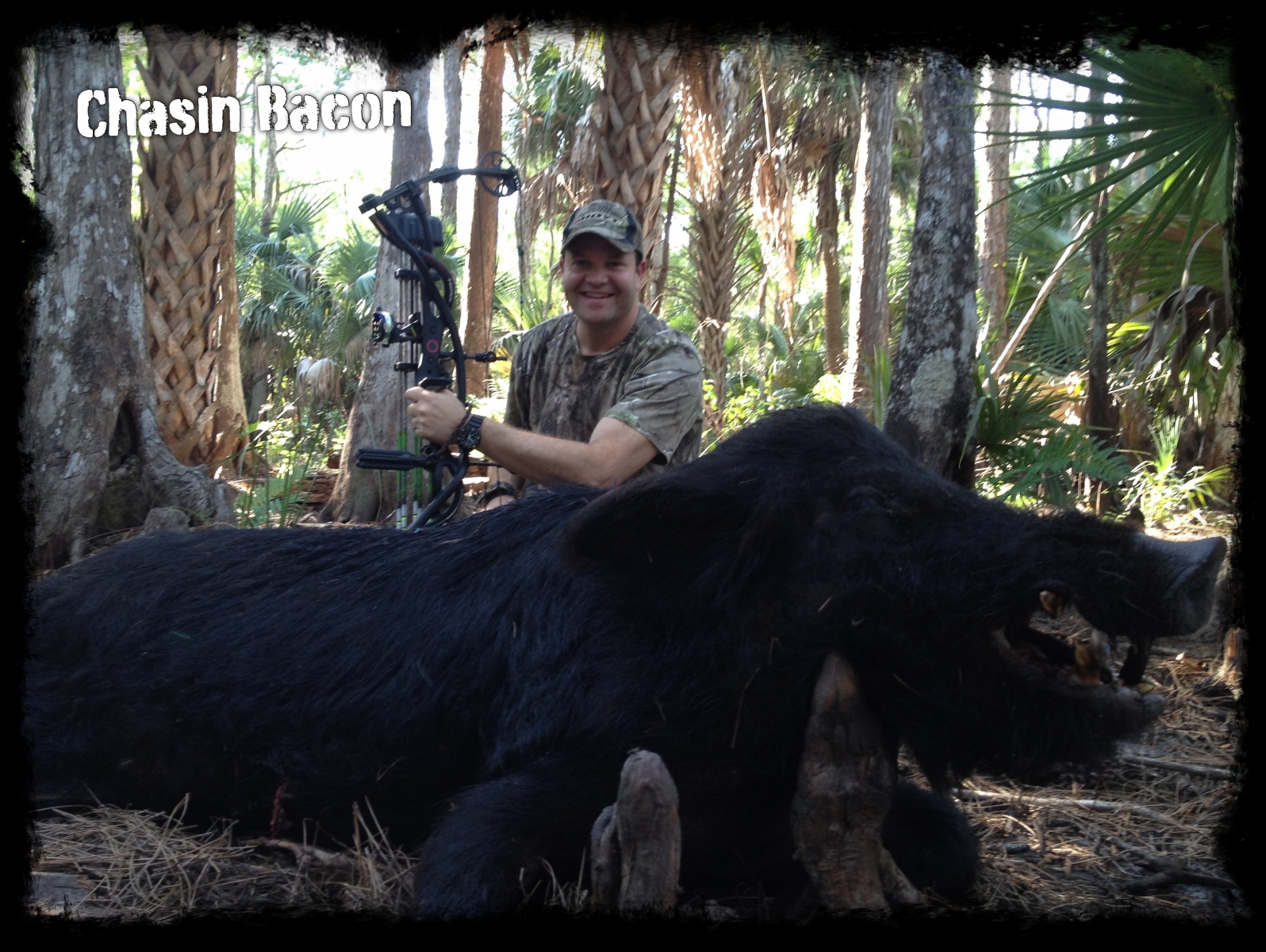 I am originally from New Jersey but my family moved to the Sunshine state when I was seven. I enjoy long walks on the beach and I am basically writing this to see if anyone actually reads this profile. By the way, I will be placing these linguistic gems in this profile and thorough this site for my enjoyment as well as yours.
More self-indulgent: Cory T. Knight, who am I? I am a proud father of three amazing young pain in the asses. As previously mentioned, I was born in New Jersey. I have been able to bring a variety of dynamic experiences that allow me to exceed my client's expectations for over the past 19 years. In order to keep this page to a minimum, I have not listed all of my acquired education, continuing education classes, additional courses, licenses or certifications. However, a complete list is available upon request should anyone need them for some strange reason, as they are not related to neither hunting nor fishing.
Here goes a brief background: On summer breaks from college, I started working in a wherehouse for a physician's practice. Over time, I worked my way up to being an aide in a very small physical therapy department. My boss continuously utilized big, intriguing words which in turn caused me to constantly have to look them up and educate myself accordingly so I could have a better understanding of what he was saying. Ironically, it happened to be a combo of English and Latin. I applied to school for physical therapy however, there was a waiting list so I entered massage therapy school as I figured by the time I passed the state and national board exam the timing would be perfect for me to enter the physical therapy program. Not that I believe in astrology, unless of course it will help me harvest a monster buck, but the stars lined up and I was accepted to the next incoming class.
After completing school and passing the board exam I began treating patients and learning the differences between book knowledge and real world knowledge. Who would have thought it, but you actually do need a combination of both types of knowledge to be successful. I treated patients for many years and I loved it. Unfortunately, I was injured transferring a three hundred fifty pound woman from a wheelchair to an x-ray table. This injury was figuratively and literally a pain in the butt. I had undergone back surgery and began focusing more on administration. I had begun to run background checks on corporations and individuals I was doing business with. I kept rising in the corporate ranks as we grew from a company of three physicians to a total of two hundred sixty five employees. After selling our company and taking some time off, I became the administrator of a local law firm dealing with the daily headaches and operations. With a self-appointed title of Janitor or Janitorial Trainee, I began hiring, managing and running all aspects of the firm's daily operations. We acquired a new building and after overseeing daily construction I decided to open CTK INVESTIGATIONS, LLC, which is a Florida private investigation agency. With my background in investigations and therapy, I was in a unique position to offer both a medical opinion as well as an investigative opinion. Today, our agency completes an average of three thousand investigations a year.
One of my law clerks that had worked with me, affectionately known as Hillbilly, wanted to go on a hunting trip with a few guys from the office. Prior to this trip, I had only killed a few water moccasins when they came to close to my house, refused to leave or simply looked at me funny, and a whole bunch of toads that had threatened my dogs. I was unsure about killing any animal and I informed our guide that I simply did not care what the motley crew I was with did. I had plans to get on the ground and make my own decisions. When the aromatic hog came out of the thicket with a menacing look and sound, as he rapidly approached me I made the conscious decision that it was acceptable to kill an invasive species. After I shot my first hog I undoubtedly had a new passion. The three other friends I was with ended the day with a grin from ear to ear, aside from CCP that passed out in the back seat of the truck with mayonnaise on his chin from the get n go store he decided to actually eat food from. As a side note I am pretty confident the health department had not inspected that fine establishment since 1493.
My hunting passion was ignited but I craved wanted more of a challenge. I set a goal to get a compound bow, learn how to shoot and take an animal within a year. I asked everyone I came across who was the best person to set up the bow as well as the best person to teach me. I heard the same two names repeatedly, John Waterhouse and Jason Williams. Each lived up to everything I was told. John was able to fit me for my bow and Jason taught me. Please review their profiles on our site.
During the scope of my Janitorial career I met Orlando Paz in which he told me about his hunting and filming endeavors around the world. He offered to film a hunt for me and we hit the ground running, well walking because I am far from a runner. Orlando filmed me shooting a hog at one hundred yards while it was running and was able to capture my first bow kill. Thus far I have harvested gators, pheasants and hogs but I am excited for the next venture and to expand our hunting, fishing and guide service to other outstanding outfitters from Florida to Africa.
Another friend I met when I was going shopping for the first hog hunt was Leon Rucker. He was constantly going hunting, bow fishing, duck hunting and getting dirty in the field. We became friends and ultimately Chasin Bacon (TM) was formed.
I incorporated Chasin Bacon, LLC and applied for our trademark. The idea was first and foremost to continue to enjoy our passion for the outdoors. The second goal was to involve our friends who shared that same passion for a variety of species, each with their own level of expertise, together as Pro Staffers for Chasin Bacon. We have been filming and hunting together for many years and now we have Chasin Bacon to promote. Our production crew can offer our clients the opportunity to professionally film and edit their hunts as an adjunct to the hunts we offer. Florida trophy boar hunts, monster bucks, crazy gator hunts, exotic hunts, and the ability to select the animal of choice and to give our clients the opportunity to harvest the animal of their dreams is ultimately what Chasin Bacon can adequately provide for our clients.
Your hunt in combination with our handpicked guides and outfitters will give you the best opportunity to harvest the animal of your dreams. Call (877) 9 HUNTING to book the hunt of a lifetime. We offer affordable hunts for everyone not to exclude handicapped, special needs, veterans, wounded warriors, the average Joe or even the experienced hunter that simply just wants the chance to have the hunting experience of a lifetime. Chasin Bacon is the clear choice for your next and lifelong outfitter/production crew/guides and hunters for you.
Is that enough of patting myself on my back because my elbow is sore at this point. If not, contact me and let me know if you wish to know any additional information aside from the simple facts that we are passionate about what we do and we will only work with others that share our same passion for conservation and love for all that is nature and wild.
CTK and Chasin Bacon are here for all of your hunting / fishing / production needs.
Call us today to ask questions (kick the tires) or book a hunt:
(877)9-HUNTING
(877) 948-6846
(954) 410-5956 Cory's Cell
© Copyright 2019, All Rights Reserved DO NOT STEAL MY CONTENT OR ENJOY WHAT HAPPENS TO YOU #CHASINBACON(TM)
Booking? Questions? Comments? >>> Contact Us!
Chasin Bacon wants to hear from you. If you have any questions or would like to book a hunt for you, friend or loved one, please contact us. Hogs, Bear, Alligator, Exotics, Naples Florida, Arcadia Florida, Texas, New Mexico, Africa.... we can put you on the animal and trophy of your dreams.
Booking? Questions? Comments? >>> Contact Us!
CHASIN BACON (TM) wants to hear from you. YES CHASIN BACON (TM) IS TRADEMARKED so do not jack our name or logos. You do not have our permission to use any picures or content unless you have our signed consent form with our Trademark and Copywrite agreement. Should you use our content, albeit picures or content without consent please enjoy the cease and dessist letter immediatly followed by our damages and court filing. PS We also look good in court not just in the field. If you have any questions or would like to book a hunt for you, friend or loved one, please contact us. Florida meat boars, Trophy Hogs, Arcadia Florida, Naples Florida, Night Hunting, Spear Hunting, Archery Hunting, Rifle Hunting, Florida Hunting Adventures, Bear, Alligator, Exotics, Florida, Texas, New Mexico, Africa.... we can put you on the animal and trophy of your dreams. Naples Florida Meat Hogs, Trophy Boars, Nightime Hunting, Ninja Spear Hunting, Arcadia Florida Exotic Hunting, Lodging, Florida Guraranteed Opportunity on Game. NOW STOP READING ALL OF THIS ABOUT FLORIDA WILD BOAR HUNTING AND EXOTIC DEER HUNTING AND CALL US TO BOOK YOUR HUNT AND ADVENTURE TODAY. #CHASINBACON
NO GUIDE FEES - NO CLEANING FEES - NO HUNTING LICENSE NEEDED FOR OUR PRIVATE LAND HUNTS!