Arcadia Hog and Exotic Hunting
ARCADIA FLORIDA HOG AND EXOTIC HUNTING:
CHASIN BACON'S Arcadia property has been created to be the finest monster hog/boar hunting in Florida with the ability to maintain a healthy herd of exotics. Our whitetail hunting Florida is great but keep in mind it is Florida. That being said we do have 120-200 B&C on the property. Our whitetail deer hunting in Florida provides you with the opportunity to hunt without freezing your nether regions off.... (politically correct). For your 200 class booner will be a dream come true on our Arcaia Ranch. Our private game preserves and amazing food sources produce monster trophy hogs that is unparalleled. You can hunt wild hogs hunts by stand, spot & stalk, or a ride spot & stalk combo, we taper your hunting trip to your goals. Buggy hunt, spot and stalk, ladder stand, tree stand or ground blind you make the call.
This property has oak hammocks, palmetto patches open fields, and food plots which all are excellent habitat for an exciting hunt. There are many outfitters & guides out there but we stand behind our reputation. Our goal is to exceed your expectations. If you are looking for exotic game hunting, meat hogs, monster hogs that need to be lifted by a forklift , we are the destination for you. Some of the species we offer: white tail deer, meat and trophy hogs, Osceola turkey, elk, axis deer, red deer, fallow, wild boar, blackbuck, stags, water buffalo, and more. Each and every guide has hunted all around the world on exotic game preserves. Each guide being an accomplished whitetail hunter, and all around exotic game hunter, you will have the odds stacked in your favor at Chasin Bacon's(TM) Arcadia property.
If you are looking for the best one stop shop for whitetail deer, wild boar/hogs, oceola turkey, or exotic game hunting in Florida stop reading this babble that I am writing and book your hunt of a life time today. Click here to e-mail us now.
Our Arcadia Florida location offers hunting accommodations in spacious cabins during your Florida hunting adventure. Whether you are looking to take a monster trophy boar, exotics such as Fallow Deer, Axis Deer, Red Stag, Rams, Texas Doll Sheep, Black Haw, Fur Horn, Island Goats, Water Buffalo, Bison, Pere David Deer, Alligators, Whitetail Deer, Meat Hogs, Trophy Monster Boar we are the hunting destination for you.

We offer archery hunting, rifle hunting, adrenalin pumping spear hunting or knife hunting. You will be paired with one of our seasoned guides and you will be well taken care of. From the moment you arrive you will be taken into our lodge and we will review all of the paperwork and safety rules. Depending on the time we can begin the hunt right away or if you booked one of our cabins you could go out when you and the guide agree on a time. We suggest listening to our guides as they are on the property daily and know the animals and their movement patterns.
All of our properties allow for handicapped or handi-capable hunting and we will make every possible accommodation for your party.
DO NOT FORGET TO BRING A BIG COOLER WITH ICE FOR THE MEAT YOU HARVEST!



Our cabins have some of the following amenities and we are constantly adding new and exciting accommodations.

➢ Tongue-In-Groove Wood Floors & Walls
➢ Microwave
➢ Small Refrigerator
➢ Air Conditioning & Heat
➢ Private Bathroom with shower and plenty of hot water
➢ 32" Flat Screen TV with Satellite
➢ 2 Burner Glass Top Stove
➢ Fresh, Clean Bed Linens & Towels
➢ Lower Bedding & Upper Sleeping Loft

All this with a 6' x 12' outside porch to sit and watch our trophy game coming in and out from our large protein feeder, or sit by the campfire and swap hunting stories. Elsie the ranch Emu may visit you so be prepared to fall in love with her.
Elsie: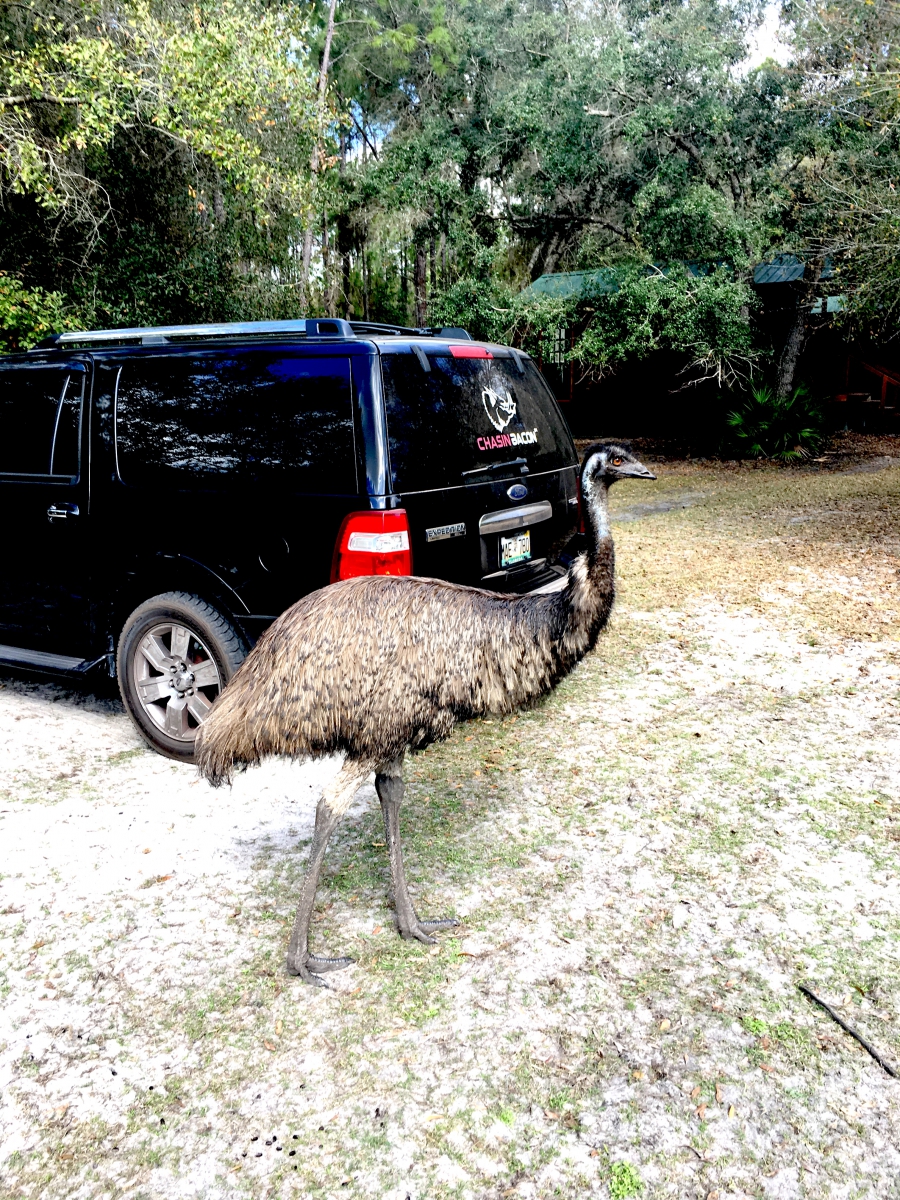 Within walking distance of the cabins is our main building where your meals are served. You can enjoy watching satellite tv on a 52" Plasma Flat Screen TV while you are served a nice, hot, homecooked meal; talk over your hunt strategy with your guide, and relax and unwind from the days hunt. Our main building also provides laundry, restroom facilities with shower, full sized refrigerator, freezer, ice, soft drinks, hot coffee, pool table, dart board and a deluxe poker set for a friendly game of poker. The bottom line is we are a one stop shop for your Florida Exotic Hunting Adventure. Call us today to ask you hunting questions and book your hunt of a lifetime. When you call please ask us if we are currently running any special deals on hunting. We usually only run these during the summer months but it never hurts to ask.
NO GUIDE FEES - NO CLEANING FEES - NO HUNTING LICENSE NEEDED FOR OUR PRIVATE LAND HUNTS!
Custom Stand In Arcadia Florida: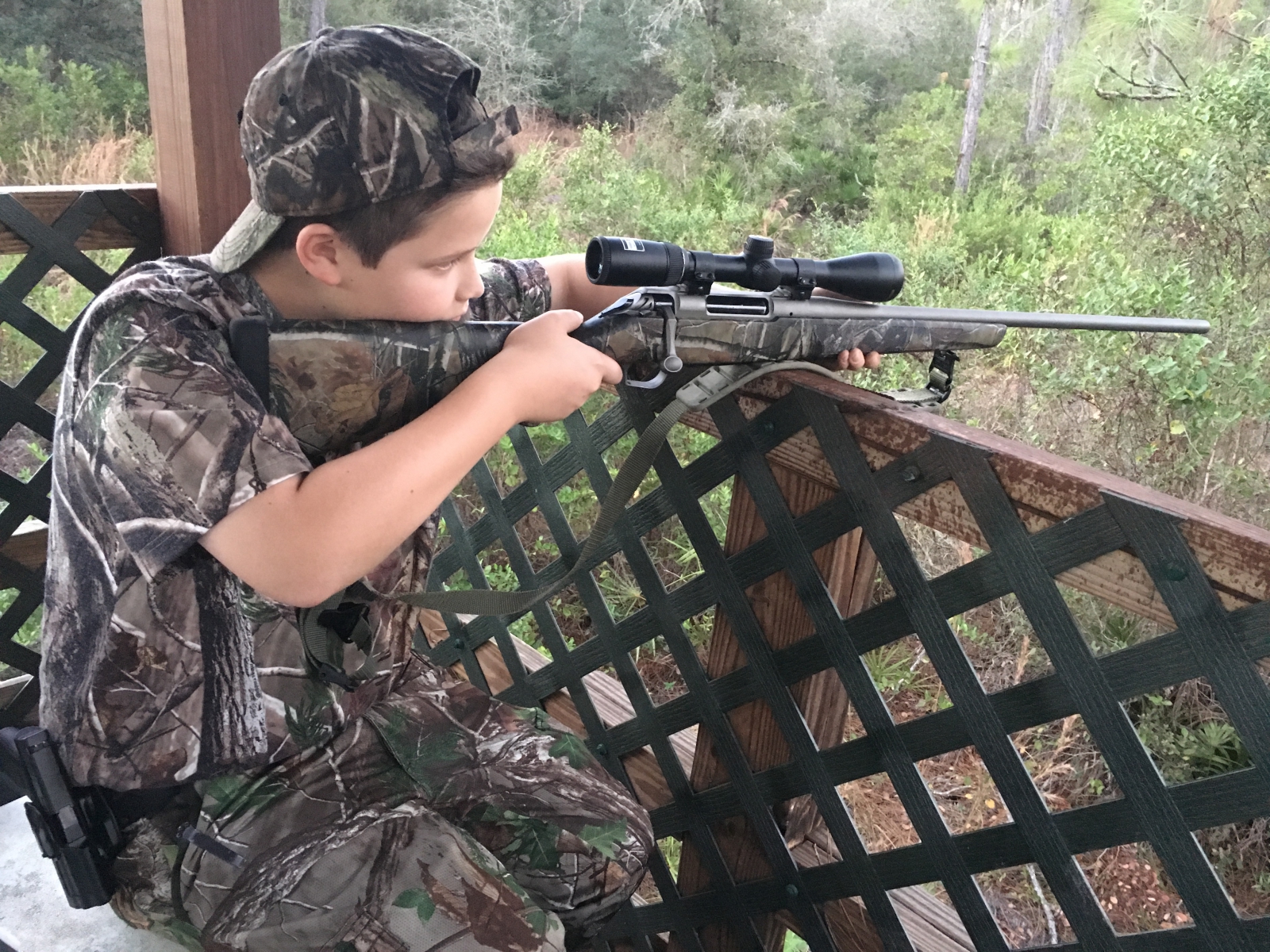 THAT BEING SAID THE PROFESSIONAL GUIDES THAT WILL GUIDE YOU TO THE ANIMALS YOU HARVEST, PREPARE THE ANIMALS, GUT, SKIN AND QUARTER THEM AS WELL AS PREPARE THEM TO BE MOUNTED IF YOU CHOOSE TO USE A TAXIDERMIST DO WORK OFF OF TIPS SO THEY GREATLY APPRECIATE IT AND DESERVE THEM (AS YOU WILL FIND OUT). 20-25% OF THE COST OF THE HUNT IS THE AVERAGE BUT WHATEVER YOU ARE COMFORTABLE WITH IS APPRECIATED.

Call us today to ask questions (kick the tires) or book a hunt:
(877)9-HUNTING
(877) 948-6846
(954) 410-5956 Cory's Cell
© Copyright 2017, All Rights Reserved DO NOT STEAL MY CONTENT OR ENJOY WHAT HAPPENS TO YOU #CHASINBACON(TM)
Booking? Questions? Comments? >>> Contact Us!
Chasin Bacon(TM) wants to hear from you. If you have any questions or would like to book a hunt for you, friend or loved one, please contact us. Hogs, Bear, Alligator, Exotics, Naples Florida, Arcadia Florida, Texas, New Mexico, Africa.... we can put you on the animal and trophy of your dreams.
Booking? Questions? Comments? >>> Contact Us!
CHASIN BACON (TM) wants to hear from you. YES CHASIN BACON (TM) IS TRADEMARKED so do not jack our name or logos. You do not have our permission to use any picures or content unless you have our signed consent form with our Trademark and Copywrite agreement. Should you use our content, albeit picures or content without consent please enjoy the cease and dessist letter immediatly followed by our damages and court filing. PS We also look good in court not just in the field. If you have any questions or would like to book a hunt for you, friend or loved one, please contact us. Florida meat boars, Trophy Hogs, Arcadia Florida, Naples Florida, Night Hunting, Spear Hunting, Archery Hunting, Rifle Hunting, Florida Hunting Adventures, Bear, Alligator, Exotics, Florida, Texas, New Mexico, Africa.... we can put you on the animal and trophy of your dreams. Naples Florida Meat Hogs, Trophy Boars, Nightime Hunting, Ninja Spear Hunting, Arcadia Florida Exotic Hunting, Lodging, Florida Guraranteed Opportunity on Game. NOW STOP READING ALL OF THIS ABOUT FLORIDA WILD BOAR HUNTING AND EXOTIC DEER HUNTING AND CALL US TO BOOK YOUR HUNT AND ADVENTURE TODAY. #CHASINBACON
NO GUIDE FEES - NO CLEANING FEES - NO HUNTING LICENSE NEEDED FOR OUR PRIVATE LAND HUNTS!