MISSION 22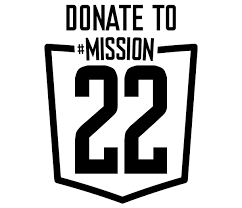 CLICK ON PICTURE ABOVE TO DONATE PLEASE:
PAY IT FORWARD
#MISSION22
Mission 22 programs
Mission 22 has three major programs. Funding veterans to receive treatment for Post Traumatic Stress, Traumatic Brain Injury and other issues they may be facing through Mission 22 Programs as well as many partner organizations, large scale public art to honor veterans and creating impact in communities for the issues veterans are facing today.
There are memorials dedicated to the fallen warriors of nearly every major conflict in our country's history. They remind us of the sacrifice, they honor those we've lost, and they tie civilian to soldier. But there was no national monument for those who have fallen in the war against Veteran suicide until the War at Home Memorial was created.
With your support, we were able to build one. We raised a monument—and awareness. We are working with community leaders in locations like Norfolk, Washington DC and New York City to create a permanent exhibit to pay tribute to those we have lost here at home.
AWARENESS
The last year our goals for awareness have not only been met but far surpassed what we could have even hoped for. The Mission 22 campaign has brought veteran issues to millions of people so that they too can make a difference. Awareness precedes change and without it we can not heal our nation.
WAR AT HOME MEMORIAL
The monument construction has been completed. We honored 20 veterans who lost their lives here at home after serving our country abroad. Please see the Memorial page for photos and to follow progress of the monument as it travels around the United States. Its next location is set for Norfolk, Virginia and we are working on a semi-permanent location for it after that. For more info on the memorial please click here.
VETERAN TREAMENT PROGRAMS
Mission 22 has comprehensive programs to treat veterans suffering from PTS and TBI. We also have partnered with other organizations that offer amazing services to veterans as well as doctors and treatment facilities across the country. The VA is a great resource but they are understaffed and underfunded. With your help we can get our veterans the help they need now, without the wait. Our partner organizations specialize in Post Traumatic Stress, Traumatic Brain Injury, substance abuse and all of the issues veterans are facing today. To see some of our programs and the services we offer click here.
Booking? Questions? Comments? >>> Contact Us!
CHASIN BACON (TM) wants to hear from you. YES CHASIN BACON (TM) IS TRADEMARKED so do not jack our name or logos. You do not have our permission to use any picures or content unless you have our signed consent form with our Trademark and Copywrite agreement. Should you use our content, albeit picures or content without consent please enjoy the cease and dessist letter immediatly followed by our damages and court filing. PS We also look good in court not just in the field. If you have any questions or would like to book a hunt for you, friend or loved one, please contact us. Florida meat boars, Trophy Hogs, Arcadia Florida, Naples Florida, Night Hunting, Spear Hunting, Archery Hunting, Rifle Hunting, Florida Hunting Adventures, Bear, Alligator, Exotics, Florida, Texas, New Mexico, Africa.... we can put you on the animal and trophy of your dreams. Naples Florida Meat Hogs, Trophy Boars, Nightime Hunting, Ninja Spear Hunting, Arcadia Florida Exotic Hunting, Lodging, Florida Guraranteed Opportunity on Game. NOW STOP READING ALL OF THIS ABOUT FLORIDA WILD BOAR HUNTING AND EXOTIC DEER HUNTING AND CALL US TO BOOK YOUR HUNT AND ADVENTURE TODAY. #CHASINBACON
NO GUIDE FEES - NO CLEANING FEES - NO HUNTING LICENSE NEEDED FOR OUR PRIVATE LAND HUNTS!