Pro Staff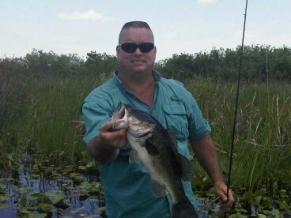 Captain Kirk Osborne
Large Mouth Bass
I have been fishing Lake Okeechobee and almost every canal in South and Central Florida for over twenty years. As a tournament fisherman and staff at Bass Pro Shops, I love to share my passion for the outdoors with customers and friends alike. I have a fishing club call Bass Hawgs that has been competing for many years.
I have taken countless monster bass and a variety of species but my passion is to educate the next generation of fisherman. Top water fishing is simply awesome but not as cool as the wake behind my lure as a monster bass is about to engulf the lure before I watch the bass jump, dance and shake until I put him in the live well.
I am a husband and father of four, and I manage to be on the water at least once a week. The most ideal place for me is on the water with no cell phone signal, a full tank of gas and tight lines all day. When I come home with a thumb so sore from catching bass that is a day to write home about. As a Pro Staffer at Chasin Bacon I look forward to taking our clients to catch the monster bass of their dreams. We can also offer a professional videographer to come on the boat to shoot and edit your fishing trip so you can show your friends and complete strangers Florida monster bass.
Booking? Questions? Comments? >>> Contact Us!
CHASIN BACON (TM) wants to hear from you. YES CHASIN BACON (TM) IS TRADEMARKED so do not jack our name or logos. You do not have our permission to use any picures or content unless you have our signed consent form with our Trademark and Copywrite agreement. Should you use our content, albeit picures or content without consent please enjoy the cease and dessist letter immediatly followed by our damages and court filing. PS We also look good in court not just in the field. If you have any questions or would like to book a hunt for you, friend or loved one, please contact us. Florida meat boars, Trophy Hogs, Arcadia Florida, Naples Florida, Night Hunting, Spear Hunting, Archery Hunting, Rifle Hunting, Florida Hunting Adventures, Bear, Alligator, Exotics, Florida, Texas, New Mexico, Africa.... we can put you on the animal and trophy of your dreams. Naples Florida Meat Hogs, Trophy Boars, Nightime Hunting, Ninja Spear Hunting, Arcadia Florida Exotic Hunting, Lodging, Florida Guraranteed Opportunity on Game. NOW STOP READING ALL OF THIS ABOUT FLORIDA WILD BOAR HUNTING AND EXOTIC DEER HUNTING AND CALL US TO BOOK YOUR HUNT AND ADVENTURE TODAY. #CHASINBACON
NO GUIDE FEES - NO CLEANING FEES - NO HUNTING LICENSE NEEDED FOR OUR PRIVATE LAND HUNTS!