Pro Staff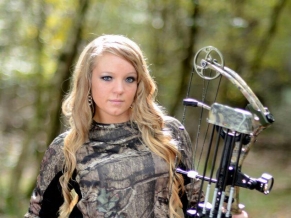 Arialle Gray
Hunting & Conservation Passion
Hunting is our way of life and who we are. My passion for hunting did not grow until I met my husband Clayton who was my high school sweetheart. He has taught me everything I know about hunting from looking for tracks to being able to tie a hog. Our first hunt we ever went on together was during rifle season on the marsh in the Gulf of Mexico! We took the boat out and set up camp! I loved every minute of it, I killed four hogs in one day on a spot and stalk hunt! A couple that hunts together, stays together! My life revolves around anything outdoors whether its hunting, fishing, checking game cameras, making food plots or just riding through the woods. I am proud to say I can kill, clean and cook my own meals. I also am a member and huge supporter of the NRA and our 2nd Amendment! I love meeting new people that share the same passions as I do!
God Bless,
Booking? Questions? Comments? >>> Contact Us!
CHASIN BACON (TM) wants to hear from you. YES CHASIN BACON (TM) IS TRADEMARKED so do not jack our name or logos. You do not have our permission to use any picures or content unless you have our signed consent form with our Trademark and Copywrite agreement. Should you use our content, albeit picures or content without consent please enjoy the cease and dessist letter immediatly followed by our damages and court filing. PS We also look good in court not just in the field. If you have any questions or would like to book a hunt for you, friend or loved one, please contact us. Florida meat boars, Trophy Hogs, Arcadia Florida, Naples Florida, Night Hunting, Spear Hunting, Archery Hunting, Rifle Hunting, Florida Hunting Adventures, Bear, Alligator, Exotics, Florida, Texas, New Mexico, Africa.... we can put you on the animal and trophy of your dreams. Naples Florida Meat Hogs, Trophy Boars, Nightime Hunting, Ninja Spear Hunting, Arcadia Florida Exotic Hunting, Lodging, Florida Guraranteed Opportunity on Game. NOW STOP READING ALL OF THIS ABOUT FLORIDA WILD BOAR HUNTING AND EXOTIC DEER HUNTING AND CALL US TO BOOK YOUR HUNT AND ADVENTURE TODAY. #CHASINBACON
NO GUIDE FEES - NO CLEANING FEES - NO HUNTING LICENSE NEEDED FOR OUR PRIVATE LAND HUNTS!