Picture Gallery
CHASIN BACON (TM) HUNTING GALLERY
Please enjoy some of our gallery pictures. We will update this section frequently so don't be lame - stalk us and check out some of our latest hunts from Florida hog hunts, Florida wild big boar hunts to African plane animal hunting on Florida private ranches for Fallow, Axis,Alligator,Water Buffalo and many other species.
CHASIN BACON(TM) is excited to have you come out on your first or 98th hunting adventure albeit Florida or anywhere elese. Our private land hunting in Florida allows you the opportunity to see and hunt more animals and species without going all over the world to have an amazing hunting adventure. Our big boar hunts, meat hog hunts, Florida exotic hunts, private land gator hunting is AMAZING if we do say so.... and it is now in writing so it must be true. CTK said so #CHASINBACON
Enjoy some of our Florida Trophy Hog / Boar Hunts:
Yes that is a hog charging our cart but we are hunters...... If you want an adventure and you want to cut your teeth on a meat hog or trophy boar call Chasin Bacon for your next hog hunt.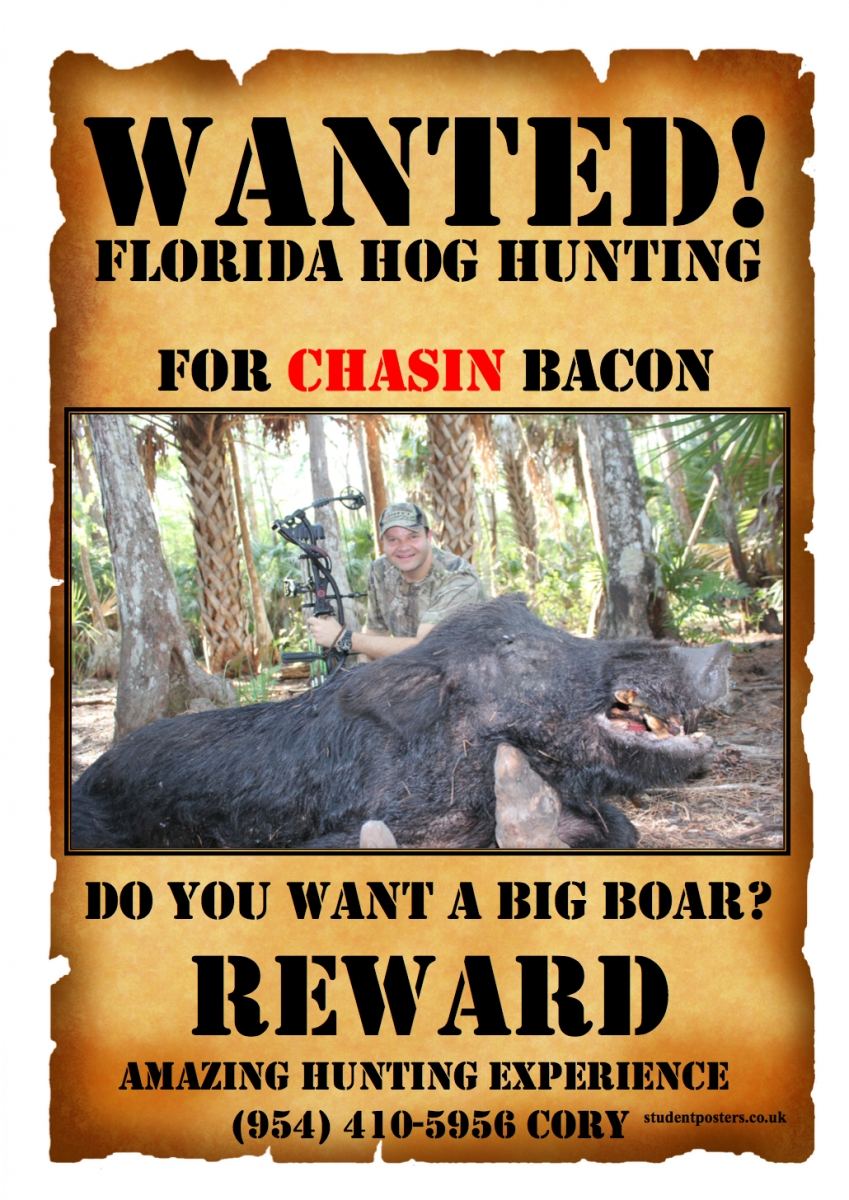 TELL ME THAT FLORIDA TROPHY HOG CHARGING US WAS NOT AWESOME!!
Chasin Bacon Florida Hog Hunting and Fishing:
Chasin Bacon is proud to feature professional guides, outfitters and lodges that offer a huge variety of big game hunts - just about any kind of game you can imagine! Starting in the northern regions of North America, Big Game Hunts include Moose, Brown Bear, Black Bear, Caribou, Mule Deer and Whitetails. As you move further south, Whitetail Deer has always been a favorite. Today, there is a huge wave of interest in hunting Wild Hog, which could also be included in the category of Big Game Hunts.
Down in the coastal states, Whitetail Deer reigns as the most sought-after of the Big Game Hunts, but there are other game such as alligator, and wild hogs.
Across the heartland of America, again, Whitetail Deer hunting is the most popular game for Big Game Hunts. Just enjoying the incredible trophy photos from our outfitters, and you will see that an impressive Whitetail Deer will thrill the heart of most any Big Game Hunter..
Moving westward, the species for Big Game Hunts grow to also include Antelope, Mule Deer, Mountain Lion, Bear, Buffalo, Sheep and the king of the mountain, the Rocky Mountain Bull Elk! When a hunter, no matter where he or she lives, thinks "Big Game Hunts," the image of a big bugling elk comes to mind. There are many outfitters and guides featured on World Class Outdoors that offer the opportunity to customize Big Game Hunts to include several species. The guides and outfitters will be happy to assist you in obtaining the tags, licenses, arranging travel dates and of course, putting you were the best hunting takes place.
Another option for Chasin Bacon's Big Game Hunts, should a hunter not have the time to invest in traveling out west, is the option of hunting ranches and game preserves. There are several excellent hunting ranches and game preserves on the website that offer an amazing variety of big game hunts - from exotic deer, ram and goats to bison and African game. Many times, these hunting preserves and game ranches can save a tremendous amount of time and money, yet still provide an exciting and challenging hunting experience.
As you look around, you will see a lot of impressive racks (not breasts but anything is possible)! But don't let that fool you - Chasin Bacon also features top outfitters and guides offering excellent wing shooting! Turkey, Duck, Goose, Dove, Quail and Pheasant hunts are available across North, Central and South America!
Ask about our fishing trips for monster large mouth bass with
Captain Kirk Osborne
. He will take you on a trip you will remember.
When contacting guides and outfitters featured on Chasin Bacon's website or Facebook page about Big Game Hunts, be sure to mention where you learned about their services! New outfitters join the site all the time, so be sure to "like" us on Facebook so you can check out the new pictures from recent Chasin Bacon Hunts.
[FLORIDA HOG HUNTING GUIDES] [TROPHY BOAR] [BOW HUNTING] [RUSSIAN BOAR] [HUNTING GUIDES][HUNTING DOGS] [RECIPES] [GUARANTEED] [HANDICAP HUNTING] [WEAPONS] [TAXIDERMY] [MEAT PROCESSING] [LODGING] [RESERVATION REQUIREMENTS][PHOTO GALLERY] [THINGS TO BRING] [PRICING] [NO GAME POLICY][CONTACT] [LOCATION] [LINKS][FLORIDA ALIGATOR HUNTING][PROFESSIONAL GUIDES][AFFORDABLE HUNTING][ARCHERY HUNTING][BLACK POWDER][LONG RANGE HUNTING][FLORIDA TURKEY HUNTING][EXOTIC HUNTING][FLORIDA DEER HUNTS]
Call us today to ask questions (kick the tires) or book a hunt:
(877)9-HUNTING
(877) 948-6846
(954) 410-5956 Cory's Cell
© Copyright 2017, All Rights Reserved
Booking? Questions? Comments? >>> Contact Us!
CHASIN BACON (TM) wants to hear from you. YES CHASIN BACON (TM) IS TRADEMARKED so do not jack our name or logos. You do not have our permission to use any picures or content unless you have our signed consent form with our Trademark and Copywrite agreement. Should you use our content, albeit picures or content without consent please enjoy the cease and dessist letter immediatly followed by our damages and court filing. PS We also look good in court not just in the field. If you have any questions or would like to book a hunt for you, friend or loved one, please contact us. Florida meat boars, Trophy Hogs, Arcadia Florida, Naples Florida, Night Hunting, Spear Hunting, Archery Hunting, Rifle Hunting, Florida Hunting Adventures, Bear, Alligator, Exotics, Florida, Texas, New Mexico, Africa.... we can put you on the animal and trophy of your dreams. Naples Florida Meat Hogs, Trophy Boars, Nightime Hunting, Ninja Spear Hunting, Arcadia Florida Exotic Hunting, Lodging, Florida Guraranteed Opportunity on Game. NOW STOP READING ALL OF THIS ABOUT FLORIDA WILD BOAR HUNTING AND EXOTIC DEER HUNTING AND CALL US TO BOOK YOUR HUNT AND ADVENTURE TODAY. #CHASINBACON
NO GUIDE FEES - NO CLEANING FEES - NO HUNTING LICENSE NEEDED FOR OUR PRIVATE LAND HUNTS!