Articles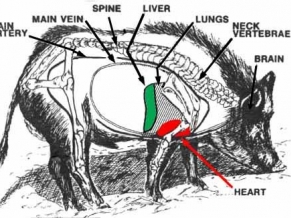 Hog Hunting/ Anatomy
How to Hunt Florida Hogs at early morning or early evening.
If you have never hunted at first light or early evening or at night and you would like to start there are several things you will need to know and a few products that will help make you hunt more successful as well as enjoyable. Before or after you decide on a feeder light we recommend that you go ahead and set your feeder timer to throw corn at whatever time of the night that you will be hunting to get the hogs acclimated to show up during that time. You would want to set the feeder to throw corn a second time somewhere between 30 minutes to an hour later to keep them used to or conditioned to eating at that feeder every morning and early evening. This way if you get to your stand late or bump some hogs coming in you have a better chance when you feeder is set to throw corn a second time or two an hour later. Whether you hunt with a rifle or a bow you must first invest in a good feeder light to get started. Chasin Bacon highly recommends a good remote control or automatic timer for your feeders. By utilizing a good remote on your feeder you will be able to draw spooked hogs back in for a shot, sometimes several times. Some hogs once spooked by shifting winds can be charmed back in immediately and sometimes 30 minutes to an hour later by sounding the dinner bell of golden nuggets once again. This time they might come from a totally different location and wind direction or a whole new group could move in on you while you lie in wait. Having a remote in hand, or knowing when the feeder will go off will greatly increase your success rate in our experience. When hunting any animal proper stand placement with consideration to the direction the wind will be blowing your scent is critical to a successful hunt but especially when it comes to meat hogs or trophy boars. As a rule of thumb, always try and keep the wind in your face whenever possible to up your odds. Hogs are probably one of the hardest animals to hunt if you are not careful about your scent and wind direction. We set multiple ladder stands, ground blinds, and tripod stands to increase your odds of bagging your Florida Trophy Boar. Camo is not a must at night and you can wear whatever you are comfortable in, although camo is cool dark colors are fine especially in a blind. Since we are avid bow hunters we just set up some tripods in an open field 20 yards or less from our feeders and wear dark colored clothing with great success. When hunting with a rifle we recommend trying to get about 75 – 80 yards or more away to increase your chances of success since a hog's snout is very good at detecting human odor.
If you hunt with a rifle we recommend a good rifle scope or possibly even one with an illuminated reticle so you can make out the black cross-hairs against a dark colored background such as a black hog. Most of our rigs have tru-glo or Nikon BDC reticles. If you hunt with a bow and don't have a bow sight light we recommend IQ bow sight. They are amazing. You might also want to make sure you have a medium to large peep sight to insure you have enough light and a good sight picture when you get ready to shoot. We recommend a G-5 1/4 inch or larger peep sight. Sometimes very small peep sights make it harder to hunt at night or in low light. When bow hunting it is very helpful to use a lighted arrow nock Luminock is what we use, as it helps us for video and makes easy to track. If you really want to increase your odds of success it wouldn't hurt to have the aid of a momentary target illuminator on your rifle or bow in case an animal is out of range and not visible under or around the feeder light.
Once you have shot a hog at night it is very helpful to put up some reflective tape on the closets tree or branch so recovery is faster. After waiting the proper amount of time you can go straight to the where your mark is to start looking for signs of a hit or the blood trail. Use a good blood tracking light, strong bright flashlight or spotlight to look for signs of a hit. Once you find any sign of a hit it is very helpful to use some illumitacks (LED Tacks) to mark the spot on a tree, leaf, fence, fencepost or grass with an illumitack and start trailing. As you progress further down the trail you can put out more illumitacks till you recover your trophy hog and you can stay on the trail and not get easily turned around. Once you have found your game, simply mark the spot or something above your animal with an illumitack or reflective tape and easily go back to retrieve your gear and or come back with help to load your animal. You obviously don't need all of the above items to start night hunting but we have found after several years of night hunting ourselves that doing so they will certainly make it a lot more enjoyable as well as help us fellow night hunters get more rest!
If you don't already have some of these helpful products described above and outlined below you can easily purchase them all from most outdoor stores or call us and we can recommend a shop.
Where to shoot a hog 101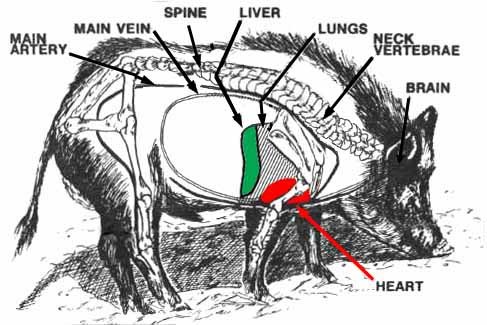 Hogs are not the easiest animals to kill and successfully recover. Shot placement is very important. Most hunters try and shoot a hog in the same area they would a deer but the kill zone is much smaller and more critical. Always better to aim low and forward then high and back. Take a good look at the anatomy drawing of a hog we provided so you will remember next time you're in the field hunting hogs you will have the confidence you need to make the right shot. Most hunters shoot a hog a little further back as if it were a deer and they end up gut shooting the hog. The hog will die but will usually be pushed far away as the hunter searches for his hog. If at all possible smell the blood you find and if it has a terrible pungent odor then you went through some guts and it might be best to pull out and give the hog time to lay down and expire before tracking any further. Hogs don't usually bleed very well also which makes them a tough animal to recover which is even more reason to make your shot count. Good luck and shoot straight Chasin Bacon style.
Booking? Questions? Comments? >>> Contact Us!
CHASIN BACON (TM) wants to hear from you. YES CHASIN BACON (TM) IS TRADEMARKED so do not jack our name or logos. You do not have our permission to use any picures or content unless you have our signed consent form with our Trademark and Copywrite agreement. Should you use our content, albeit picures or content without consent please enjoy the cease and dessist letter immediatly followed by our damages and court filing. PS We also look good in court not just in the field. If you have any questions or would like to book a hunt for you, friend or loved one, please contact us. Florida meat boars, Trophy Hogs, Arcadia Florida, Naples Florida, Night Hunting, Spear Hunting, Archery Hunting, Rifle Hunting, Florida Hunting Adventures, Bear, Alligator, Exotics, Florida, Texas, New Mexico, Africa.... we can put you on the animal and trophy of your dreams. Naples Florida Meat Hogs, Trophy Boars, Nightime Hunting, Ninja Spear Hunting, Arcadia Florida Exotic Hunting, Lodging, Florida Guraranteed Opportunity on Game. NOW STOP READING ALL OF THIS ABOUT FLORIDA WILD BOAR HUNTING AND EXOTIC DEER HUNTING AND CALL US TO BOOK YOUR HUNT AND ADVENTURE TODAY. #CHASINBACON
NO GUIDE FEES - NO CLEANING FEES - NO HUNTING LICENSE NEEDED FOR OUR PRIVATE LAND HUNTS!